• Challenge Quilts • Commission Quilts • Other Original Quilts • Quilts from Classes & Patterns • Tribute Quilts • Art Quilts Page • Home •
Trees
44" wide x 24" high
I made this quilt in response to a class assignment from Judy House's Art Quilt Study Group. She challenged her students to create a landscape by planning as much as necessary (gather materials, sketch if necessary, plan it out)...and then set the kitchen timer to one hour. One hour! The main part of the quilt top was to be finished "by the bell."
The background is all one piece of batik meant to give the impression of the woods, like the ones behind my house. I gathered all the good tree bark batiks I could find and then I free cut with a rotary cutter much like Ricky Tims teaches in his Caveman Quilting workshop. The trees are pieced into the background. The striped border is a single batik; I like how it gives the impression of dappled light. Thank goodness for the time limit. I originally planned to add leaves, but it's much more effective to simply quilt the leaves into the background.
This little quilt has traveled a bit and brought home a second place ribbon from the 2006 New Jersey State Quilt Convention.
This quilt is in my collection, but it travels to workshops where I teach others to create their own trees. NFS.
---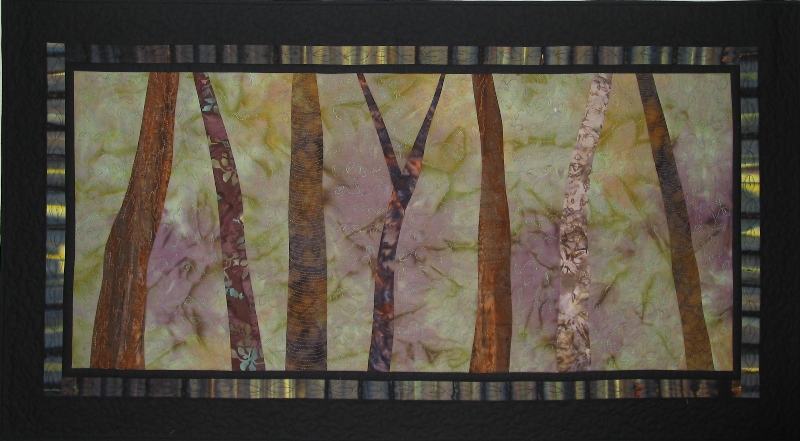 • Challenge Quilts • Commission Quilts • Other Original Quilts • Quilts from Classes & Patterns • Tribute Quilts • Art Quilts Page • Home •