• Challenge Quilts • Commission Quilts • Other Original Quilts • Quilts from Classes & Patterns • Tribute Quilts • Art Quilts Page • Home •
The Write Stuff
Vintage Revisited: Block 4
24" square
My good friend Mary Kerr issued a challenge to 19 of her quilter friends. In each of of the six rounds, Mary distributes virtually identical blocks to each of us and we create quilts in our own styles from these vintage blocks. Click here for more information about her Vintage Revisited challenge.
Yellow and white. The challenge here was to create something -- anything -- without it looking like a bumblebee. It started with a 9-patch, some of my favorite rubber stamps, and coordinating fabric with that "vintage writing feel." I needed to make some of the fabric darker, which is how I integrated the rubber stamping. The pen and nibs came from an old writing desk from Nana's farm. She'd be happy to see them out of the drawer.
Four down, two to go!
This quilt is in Mary Kerr's collection for exhibit until 2010.
---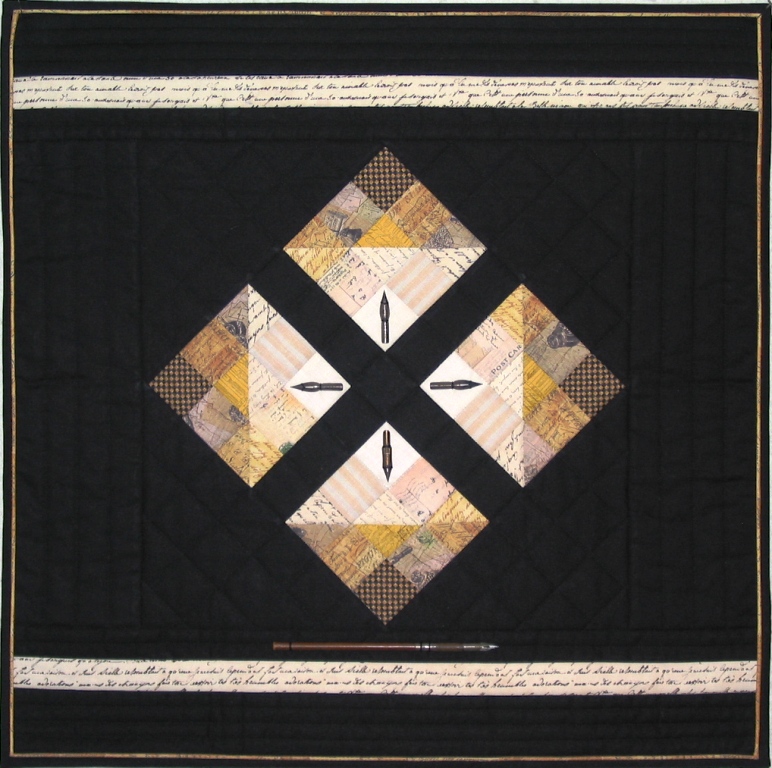 • Challenge Quilts • Commission Quilts • Other Original Quilts • Quilts from Classes & Patterns • Tribute Quilts • Art Quilts Page • Home •