• Challenge Quilts • Commission Quilts • Other Original Quilts • Quilts from Classes & Patterns • Tribute Quilts • Art Quilts Page • Home •
Mentor, Guru & Sage
70" wide x 40" high
This tribute quilt was designed to honor a man who was very active in the art world. Among other things, he was known for his bow ties and the collection of quotes on his office bulletin board. The black dupioni silk in the background and the red silk in the narrow border are the only fabrics I added. The rest is all bow tie fabric from his collection of 166 bow ties.
The quotes were added with freemotion quilting in a technique I call QuiltWriting. In addition, the thread drawing in the upper right corner is from a cartoon designed for him called "Art Law." Each piece of confetti was sewn individually and affixed to the quilt using only a seed bead to add dimension.
Mentor, Guru & Sage is part of a private collection and has been featured in The Washingtonian Magazine. It will also be shown at the 2008 Mid-Atlantic Quilt Festival.
---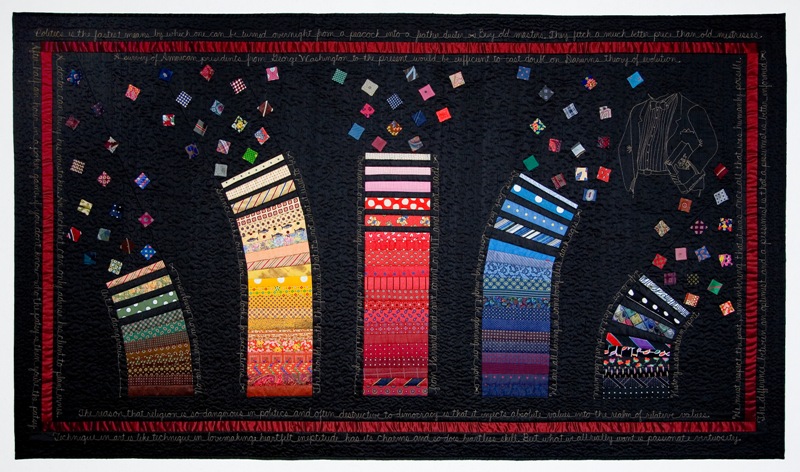 Detail Picture: Check out the cartoon and the confetti!
• Challenge Quilts • Commission Quilts • Other Original Quilts • Quilts from Classes & Patterns • Tribute Quilts • Art Quilts Page • Home •