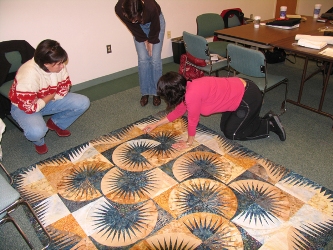 • Challenge Quilts • Commission Quilts • Other Original Quilts • Quilts from Classes & Patterns • Tribute Quilts • Art Quilts Page • Home •
Teal Beauty
Teal Beauty is the culmination of three years of collecting teal fabrics and wanting to do something to honor my sister, Victoria Zacheis Greve. Teal is the color assigned to ovarian cancer, the disease that killed my sister in March of 2004 after a courageous battle that lasted almost five years.
I wanted this quilt project to honor both my sister and her daughter. Since my sister's illness, my niece has become quite involved in Ovarian and Silent Cancer activities. In naming the quilt, I chose to include "Teal" for ovarian cancer and "Beauty" for the quilt pattern New York Beauty and for my beautiful niece who lived in New York for a while during my sister's struggle with cancer.
It seemed right that this should be a group effort, but I had no idea how generous my quilting friends would be with their time and fabric. Some of the fabric in the quilt came from my stash. Kathy Lincoln and Linda Snow were quick to add fabric from their batik collections. Other fabric came from a variety of stores, including SewBatik.com.
In all, twenty quilters from across the U.S. donated time and effort toward this project. I sent out kits and the beautiful blocks came back to me in the mail. How I looked forward to the mail!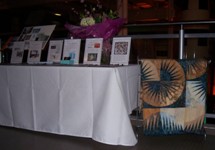 The finished quilt was auctioned in London, U.K., on March 10, 2007, and raised nearly $9,000 for cancer research! The exact number was 4,500 British pounds, with the money going to benefit the Institute of Cancer Research. The Institute is one of the world's leading cancer research organizations. It has isolated more cancer-causing genes and taken more anti-cancer drugs into clinical trials than any other organization worldwide. With over 90% of its total income going directly into research, it is one of the most cost-effective cancer research organizations in the world.
Participants
Beverly Burroughs

Karen Burshnick

Linda Cooper

Karen Dever

Annabel Ebersole

Lisa Ellis

Carol Fray

Libby Fritsche

Kathye Gillette

Cathie Hoover

Susie Johnson

Mary Kerr

Kathy Lincoln

Jeannie Minchak

Jeannette Muir

Bonnie Prouty

Claudia Sammis

Linda Snow

Cyndi Souder

Diane Yim
I owe a debt of gratitude to Bruce Magidson of SewBatik for his generous support of our project. Please visit his website.
---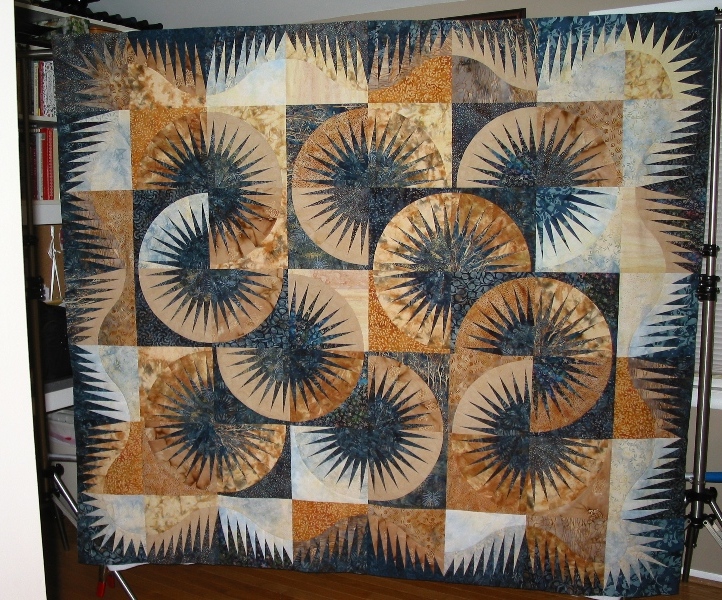 The pattern is an adaptation of New York Beauty called The Japanese Fan by Judy Niemeyer.
• Challenge Quilts • Commission Quilts • Other Original Quilts • Quilts from Classes & Patterns • Tribute Quilts • Art Quilts Page • Home •