I Recommend...
From time to time, people ask me where I find some of the tools and supplies I use. On this page, I have links to the places where you can find the products and resources I recommend.
FYI, some of these are affiliate links; I may receive a small commission on sales made through these links. Thank you for supporting the companies with whom I do business.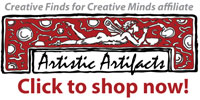 I shop and teach at Artistic Artifacts in Alexandria, VA. They have the best art supplies, vintage finds, and unique fabric. Specifically, I love their woodblock selection and the tools to support woodblock printing: printing mats and ProFab paint. I also teach Tsukineko Inks and Shiva Paintstiks, both carried by Artistic Artifacts.
If you saw me printing with woodblocks on QATV, series 1700, this is where I got my woodblock printing supplies.
---

The folks at Cherrywood make amazing hand dyed fabrics. I used this fabric for many class samples for my Craftsy classes and for my segments on QATV, series 1700. Check out the picture on my home page for leaf woodblock prints on beautiful Cherrywood fabrics.