Designing Meaningful Memory Quilts

All quilters seem to have collections of things – linens, clothes, photographs, UFOs – that were precious to family and friends who are no longer with us. In this 3- or 6-hour class, we'll discuss how to incorporate these treasures into an original quilt design that pays tribute to the original owners and to our memories of them. Designs will be based on individual taste and skill level. Each student will come away with ideas and usable plans to complete her own memory quilt. Click here to see some of the memory/tribute quilts I've created.
Tsukineko Ink Basics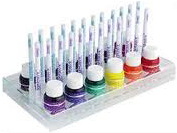 Learn to use these versatile inks in two ways: to add delicate, controlled color for highlights or tinting with the Fantastix Applicators, or to add bolder color to create your own fabric color schemes by adding ink to unscented aloe gel. Tint phototransfers or add color to your labels. I'll bring some fabric samples for you to play with; you'll be surprised at how easy these inks are to use. For traditional and art quilters.
Shiva Paintstik Primer

You see these Shiva Paintstiks everywhere, but how do you use them?  This introductory workshop will cover two basic ways to apply these Paintstiks to fabric: by rubbing on texture plates and by using a brush.  You'll be amazed at how easy it is to create your own fabric with these amazing paints. We'll talk about the care and feeding of the Paintstiks, heat setting the paint, washability, the use of stencils and freezer paper, and clean-up. You'll leave class with two samples and ideas for how to use these wonderful tools.
Wonderful Woodblock Printing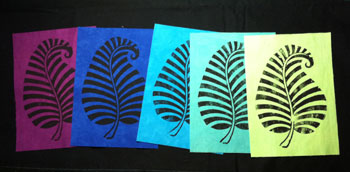 Would you like to print your own fabric or focus blocks? You can do it with woodblocks and paint! You'll learn how to get clean impressions, how to plan overall designs, and how to create focus quilt blocks with single prints. Heat set the paint and use the fabric in quilts, artwork, and clothing. This technique is easy and fun, limited only by your collection of paints, fabric, and woodblocks.
QuiltWriting - Add Words to Your Quilt with Free Motion Quilting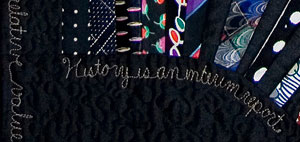 Learn different ways to add free-motion machine quilted writing to your quilts.  We'll talk about how to keep the lines straight and how to scale your words to fit the space.  We'll also discuss threads and how to choose your words and quotes.  I'll include tips and tricks for controlling your quilt while you have it on the machine and how to set an atmosphere conducive to quality work.  This is for intermediate machine quilters.  Click here for pictures.
This Foot was Made for Walking
This introductory workshop will show you how you can quilt your own quilts without freemotion quilting. We will leave the feed dogs up and let the sewing machine determine stitch length for us. It's easy!
In this class, we will cover basic machine quilting in straight lines, quilting parallel lines, stitching in the ditch, quilting with decorative machine stitches, and my favorite "get it done" method using wavy lines and pretty threads. Never again say "I can't."
Fearless Free Motion Quilting Basics

This introductory workshop will introduce you to machine quilting without fear or intimidation. We will drop our feed dogs and discover how simple and fun freemotion quilting can be. It's easy! In this workshop, we will cover basic freemotion filler patterns including meander, loop-de-loop, and vines. We will discuss personal filler patterns and why it's useful to have a favorite go-to filler pattern in your back pocket. We'll also discuss threads, needles, tension, and how to match your freemotion quilting designs to your quilt. You will leave class with samples, confidence, and a brain filled with ideas.
Mark Your Design and Quilt on the Line
Do you want to take your free motion quilting to the next level? In this confident beginner/intermediate workshop, you'll learn multiple ways to mark designs on your quilt tops and then quilt on the lines. This method of free motion quilting is easier than you think and will open up a whole new world of designs you can now execute with confidence.
Beyond the Basic Binding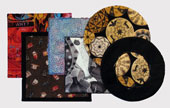 Do you dread adding the binding to your quilts? Do you wish you had the skills to create interesting quilt edges? In this workshop, students will start by learning to attach a clean and straight traditional binding and then move on to innovative edge finishes: fused, escape hatch, facings, zigzag and satin stitching, and couching.  Students will take home a collection of samples. Appropriate for traditional, transitional, and art quilters.Six hours.
Trees
Create your own tree quilt using my pattern or adapting my techniques. Let the fabric do the heavy lifting.  This 3-hour workshop will concentrate on freeform rotary cutting (no rulers!), sewing curves, persuasive pressing and quick construction.  Students must be comfortable with their rotary cutters.  The 6-hour version of this workshop includes more detailed instruction on borders and quilting. Pattern available.