Magazines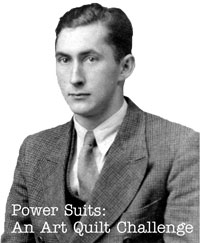 In 2011, Judy Gula and I issued a quilt challenge called Power Suits: An Art Quilt Challenge. We had no idea how big it would become! Articles about our challenge were featured in the Fall 2012 issue of Quilt Trends and the Spring 2013 issue of The Quilting Quarterly. For more information about our Power Suits Challenge, click here.
In the Project Special 2011 issue of The Quilting Quarterly, I shared the story of a special quilt that was made with much love and sent to a fundraiser. The article, To Honor a Sister, was about a quilt my friends helped me make to celebrate the life of my sister, who died from ovarian cancer. Click here for pictures and some more information. In my book, Creating Celebration Quilts, I devoted an entire chapter to the group project, the design decisions involved, and more indepth pictures.
The Professional Quilter magazine featured my studio in one of their 2008 issues; it was really exciting to have an excuse to reorganize my space and then pretend that it always looks like that! In addition, I was a nominee for The Professional Quilter 2008 Teacher of the Year.
I wrote "61 Ways to Rev Up Your Quilting" for Mark Lipinski's Quilter's Home Magazine back in 2008. The article was a list of ways to break out of a creative rut or overcome quilter's block. It was fun to brainstorm all the ways we can fill our creative wells and get those ideas flowing. In fact, I have a lecture on this very topic, Overcoming Quilter's Block. Mark has moved on, but Quilter's Home magazine is still going strong.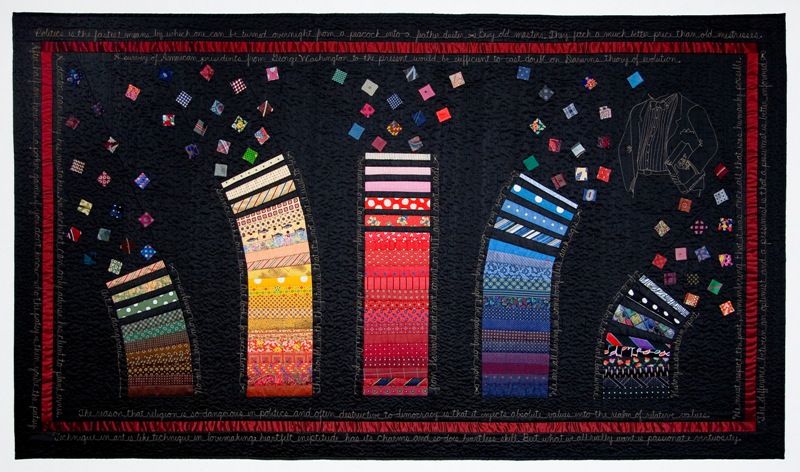 In January of 2008, the Washingtonian Magazine featured a tribute quilt I made for a client. The quilt, Mentor, Guru & Sage, features many deconstructed bow ties, a collection of quotes that I added with my QuiltWriting technique, and a quilted thread rendition of a cartoon provided by my client. It was a heartfelt piece and I was thrilled to have the opportunity to make it.
I wrote for Machine Quilting Unlimited's premier issue in 2007 and then spent the next year writing a column for them. Topics included QuiltWriting, basting, and machine quilting. They feature the best in machine quilting and you can always find great inspiration and tips in their magazine.
Too Much Soul to Control, a tribute quilt I created for a client,is in the Fall 2007 issue of the James Renwick Alliance Quarterly! This is the online magazine aimed at supporters of the James Renwick Museum in Washington, DC. Click here to read the article on page 16.